Registration Information
(Includes bus transportation)
Register online until August 29th, 2008
Register at packet pick-up at:
NM Marathon Health & Fitness Expo presented by
Hotel Albuquerque at Old Town
800 Rio Grande Blvd. NW
Albuquerque, NM 87104
Saturday, August 30, 2008
10:00am until 4:00pm
Register in person at:
The ABQ Running Shop
Beginning April 1, 2008
Cash or check only
Registration Deadline: Friday, August 29th
Enter by July 30th and receive moisture wicking event shirt
New Mexico Marathon: $68
New Mexico Half Marathon: $53
New Mexico 5K: $38
Enter after July 30th or at the New Mexico Marathon Health & Fitness Expo
(NO EVENT SHIRTS AVAILABLE)
New Mexico Marathon: $58
New Mexico Half Marathon: $43
New Mexico 5K: $28
New Mexico Marathon Health & Fitness Expo
Packet-Pickup and Late Registration
Saturday, August 30, 2008
10:00am until 4:00pm
Hotel Albuquerqeu at Old Town
800 Rio Grande Blvd. NW
Albuquerque, NM 87104
(505) 843-6300
Awards
To be announced... please check back.
Award Ceremonies
New Mexico 5K: 8:15am
New Mexico Half Marathon: 9:30am
New Mexico Marathon: 10:30am
Event Finish Festival
Live music
Spanish dancers
Mariachis
Kid's Activities
Award Ceremonies
Participant Photos
Professional Race Photos taken by InfoImagination, and will be available for purchase at a reasonable price. Photos are posted in the Race Results section upon completion of the event.
The Award Presentation
Held at Tiquex Park, near race finish.
New Mexico 5K - 8:15am
New Mexico Half Marathon - 9:30am
The New Mexico Marathon - 10:30am.
Finishing Times will be posted at the ceremony, as well as on our website
[here]
.
Last Year's Race
Hundreds of runners enjoyed this beautiful course in 2007! Visit the
results
page to check out the finish times and pictures of the course!
Additional Information
Chip Timing
ChampionChip of the Rockies will be providing the timing of all events. Finishing Times will posted at race finish, as well as on the website. You will be charged a $25 fee for lost or unreturned timing chips.
In memory of Zachary Hollis
The Tourette Syndrome Association (TSA) charity beneficiary for the New Mexico 5K.
Zak was an amazing person. His grandmother says, "he was bright and clever" and those adjectives plus "compassionate and determined" describe our son. He lived for only 16 years, but he lived life, like no person I have ever met. His persistence, strong will, compassion for others with disabilities, love of animals and his amazing sense of humor touched the lives of many. Zak never said, "why me?" He accepted each challenge he encountered and did his best to figure out how to overcome it.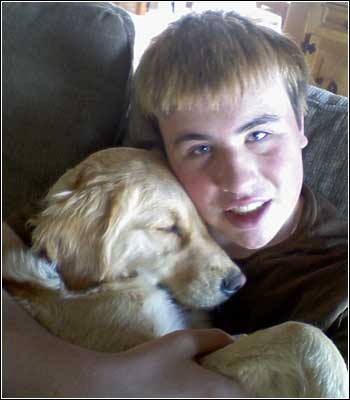 Zak was diagnosed with Tourette Syndrome and severe obsessive compulsive disorder at the age of 8. For many years his life was a difficult struggle, yet he continued to persevere through incredible challenges. School was very difficult as reading and writing were at times impossible for him, but he used his intellectual gifts and mastered many assistive technologies to compensate. Zak was an honor roll student, a brother, a son, a grandson and a friend.
He was active with the National Tourette Syndrome Association, traveling to Washington DC to lobby on Capital Hill for other individuals living with this unique neurological disorder. Zak helped change the Individual with Disabilities Education Act, federal law, which now lists Tourette Syndrome as a specific disorder to be addressed by the schools. He also helped start the chapter for the Tourette Syndrome Association in New Mexico and was a special friend to the younger children in the chapter.
Zak had many hobbies and interests. He spent eleven years in Cub Scouts and Boy Scouts and was awarded the Eagle Scout award posthumously. He was an avid camper and was selected for the Order of the Arrow. He was active in his church and the Key Club at La Cueva High School.
One of Zak's greatest passions was learning and research. Long before he died, he made known his desire to donate his brain for research on Tourette Syndrome. This was done and even now he is part of a tremendous research effort.
Like Zak, his family is committed to reaching out to people with TS and educating those around them about Tourette Syndrome. Please join us in our walk/run by donating, sponsoring or just wearing a T-shirt in Zak's memory so you can help build an informed and caring community.
EVENT RULES
Strollers, bicycles or dogs are not allowed on the course.
Pacers or trainers are not allowed on the course.
Headphones are not allowed.
Bandits (non-registered runners) are prohibited.
One race award per person. Overall race winners are excluded from age group awards.
No refunds: Entry fees can be rolled over to another race or event. Notice must be given to the Race Director by August 29, 2008.